We look closely at the genuine Bluescope Steel products that go into making our sheds so strong and durable. We use only COLORBOND®, ZINCALUME®, CUSTOM ORB®, TRIMDEK® and GALVASPAN® products that are made exclusively from BlueScope Steel and manufactured locally by Bluescope Lysaght here in Australia.
Internal and Structural Components

 
GALVASPAN®
The internal structural components of all Now Buildings' sheds are made using BlueScope's Galvaspan.  Galvaspan steel is cold roll formed and has a hi-tensile steel core with a corrosive resistant zinc coating.  This innovative method of producing Galvaspan Steel has given it a strength to weight ratio 60% greater than traditionally made hot rolled steel. Our Galvaspan steel structural components such as our purlins, have a tensile strength of 450 megaPascals (MPa) to 500MPa. For comparison, other structural mild steel is 250MPa.
Want to learn more about Galvaspan steel? Click here.
Structural components, such as our purlins, are made from BlueScopes Galvaspan steel.
---
Roof and Wall Sheeting 
LYSAGHT CUSTOM ORB®
For the classic Aussie corrugated shed look, we use BlueScope Custom Orb roof and wall sheeting. Custom Orb is the original Australian corrugated steel, a strong roofing and walling material that is lightweight and easy to build with. Custom Orb is versatile and looks great in our traditional, rural and commercial sheds. Available in a Zincalume or a Colorbond finish.
You can find out more about Lysaght Custom Orb here.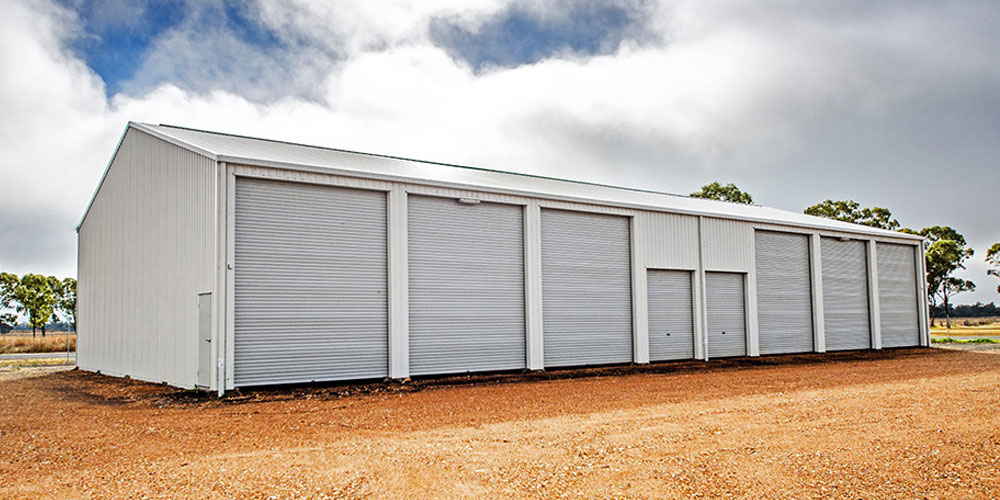 Get the classic Aussie look with BlueScope Custom Orb roof and wall sheeting.
TRIMDEK®
Trimdek is a versatile roof and wall sheeting with a modern feel. Featuring bold, trapezoidal ribs and subtle fluting in the pans, Trimdek is a standout feature for your shed. Trimdek is suited to commercial, industrial and rural sheds and comes in either a Zincalume or a Colorbond finish.
Want some more information on Trimdek? Click here.
Try BlueScope Trimdek roof and wall sheeting for a more modern feel. 
---
Rain Water and Finishes

 
ZINCALUME®
We use BlueScope Zincalume in our shed wall and roof sheeting for its durability and resilience across Australia's changing landscape. BlueScope have spent over 17 years testing their Zincalume steel in a variety of environmental conditions and buildings applications. The new Zincalume technology combines magnesium and aluminium-zinc alloy coating, making it more resistant to highly corrosive environments (see picture below) and increasing the lifespan of the Zincalume components in your shed.
Next generation Zincalume Steel is tested in highly corrosive marine environments all over the world. Photo courtesy of BlueScope Lysaght. 
Interested in finding out more about Zincalume testing? Click here.
Learn more about Zincalume here.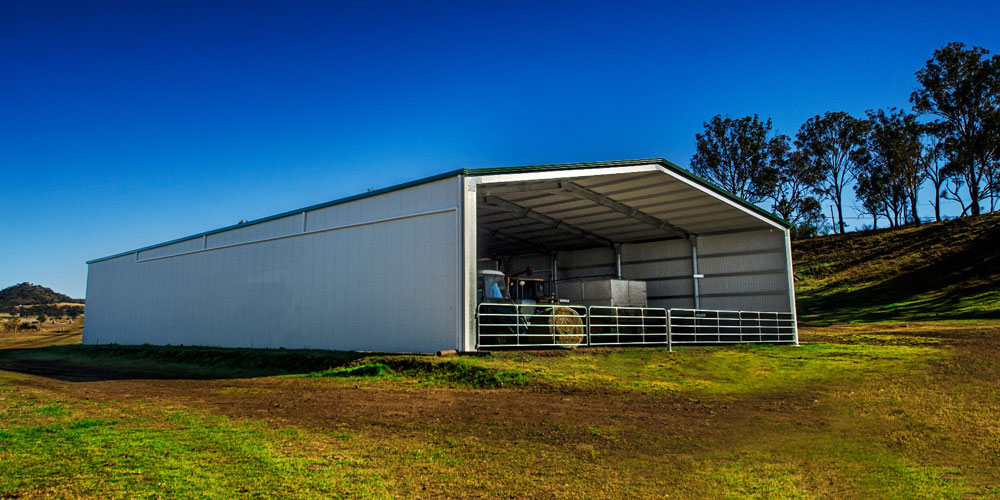 Zincalume roof and wall sheeting has been proven to withstand even the harshest climates Australia has to offer. 
COLORBOND®
We use BlueScope steel for its superior strength and durability.  Not to mention the aesthetically pleasing nature of BlueScope's Colorbond steel, which allows you to choose from a range of colours inspired by the Australian landscape.    
You can check out the Colorbond chart here.
This doesn't mean that Colorbond steel is just about looking good.  Colorbond steel is made using 5 layers; the Australian standard steel base, a corrosion resistant metallic coating, a pretreatment layer to assist in adhesion, a corrosion inhibitive primer and finally, a baked on topcoat of BlueScope's specially designed exterior grade paint. Bluescope's Colorbond Steel has been tested in a variety of Australia's harshest conditions, with over 12,000 panels on exposure in a vast range of landscapes across Australia. In Rockhampton, Queensland, roof temperatures can reach over 60 degrees Celsius and in coastal Bellambi, New South Wales, the marine environment can be extremely corrosive to steel products.  Inferior products such as coating protection will crack under the pressure of these elements, but not Colorbond steel. BlueScope's standards for testing their products often exceed the Australian testing standards for steel building products and with over 50 years of testing and development, BlueScope know how to build Steel that lasts.
New Colorbond Steel has gone through the most rigorous testing program in COLORBOND® steel's history. Photo courtesy of BlueScope Lysaght.
BlueScope have written extensively on Colorbond testing.  If you would like to learn more, click here. 
Want more information on Colorbond? Click here. 
This beauty features Colorbond 'Classic Cream' roof and wall sheeting.
---
Australian Standards 
As Australia's leading manufacturer of steel, BlueScope Lysaght's steel products are guaranteed to meet and exceed Australian standards. The Building Code of Australia (BCA) requires the steel used in your shed to comply with the relevant Australian Standards. We use Zincalume® and Colorbond® steel for both roofing and walling in all Now Buildings' sheds and these products comply with Australian Standards AS1397 and AS2728 respectively. We use Galvaspan® in the internal structural components of our sheds and it has been made to comply with Australian Standard AS1397.
Warranty
Our BlueScope supplied components are all covered by BlueScope Lysaght's 25 year warranty.