Now Buildings has been a family owned and operated business since its establishment by Nick Walker in October, 2008. The idea behind Now Buildings was simple; provide high quality buildings at wholesale prices to good people.  Nick was joined at Now Buildings in late 2009 by his father, Trevor and his brother, James. Their combined history and interest in sheds, rural farming, engineering and sales has since shaped Now Buildings into one of the most trusted shed companies in Australia. 
Growing up on rural properties, Trevor had lived on his fair share of farms throughout his youth and even helped build the family house and sheds (of course!) with his mother, Joan, father, Vince and five brothers and sisters. Growing up on a farm teaches you a lot of things, like resilience, pride and respect.  Working on the farm day to day, Trevor understood the true meaning of doing an honest days work and how important it is to support and be part of the local community. It also helped that Trevor's father, Vince Walker (pictured below) was an excellent role model and mentor and taught him everything he knew. Passing these values on to his sons Nick and James was very important to Trevor when he became a father.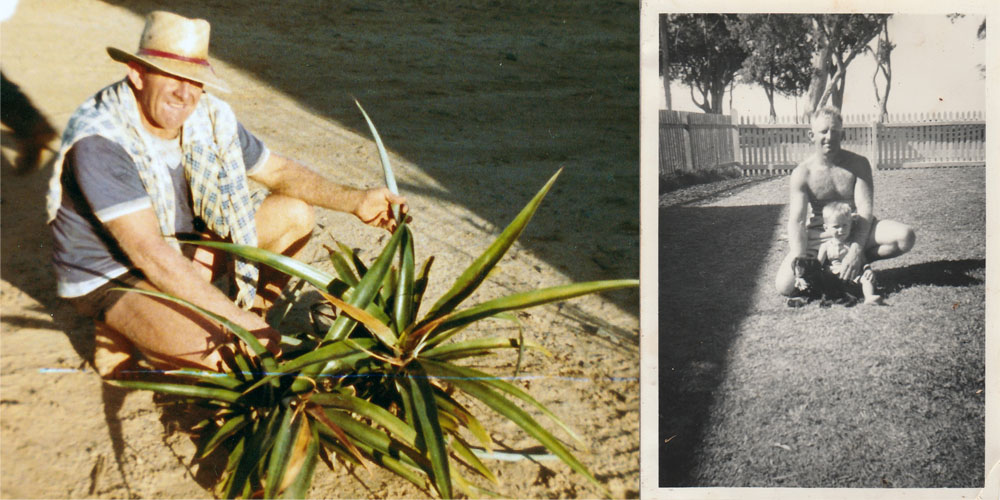 Pictured: Left; Vince Walker on the farm in Woombye, Queensland and right; Vince Walker and Trevor Walker (child) in Gympie, Queensland.
Raised in central Queensland, the Walker boys weren't strangers to hard work either. Nick had always had a passion for designing buildings and began working in engineering and design in the steel building industry when he was just 15 years old.  He knew from an early age that engineering and management was his calling, and he was determined to one day create a company of his own. On the other hand, James had always had a keen interest in sales and would sell Macadamia Nuts he collected to motorists on the side of the road when he was a young boy.  Before joining his family at Now Buildings, James was a salesman for Toyota.
Pictured: The young Walker boys (Nick and James) walking along the irrigation line at their property in Emerald Central, Queensland.
Combining these values and their individual skills, the Walker's put everything into Now Buildings and haven't looked back. While Nick leads the head office and takes care of everything from designing Now Buildings' unique bracketing system to ensuring shed deliveries are on schedule, Trevor and James lead the sales and marketing team, helping farmers and industry leaders find the perfect sheds for their properties. This great combination and hard work has seen Now Buildings grow from a small home business into Australia's leading supplier of wholesale, large format, farm and industrial sheds. 
Walker History 
It is the Walker's unique association and history with the land that has helped establish Now Buildings as a leading company in rural Australia.  Trevor recalls his grandparents, Henry and May, working as farmers their entire lives around the Gatton and Gympie area in Queensland. Their last property, Red Gully, was used to farm dairy cattle, beef cattle and grow beans and other small crops.  Trevor's father, Vince, was the oldest child and left school at a young age to work on the family farm and help support his growing family. Apparently there was nothing Vince couldn't grow, and he went on to become a well known and respected figure in the farming community, particularly in the horticultural industry.   He and his wife Joan owned a number of farms throughout the years, growing everything from strawberries, pineapples and tomatoes to cucumbers and bananas.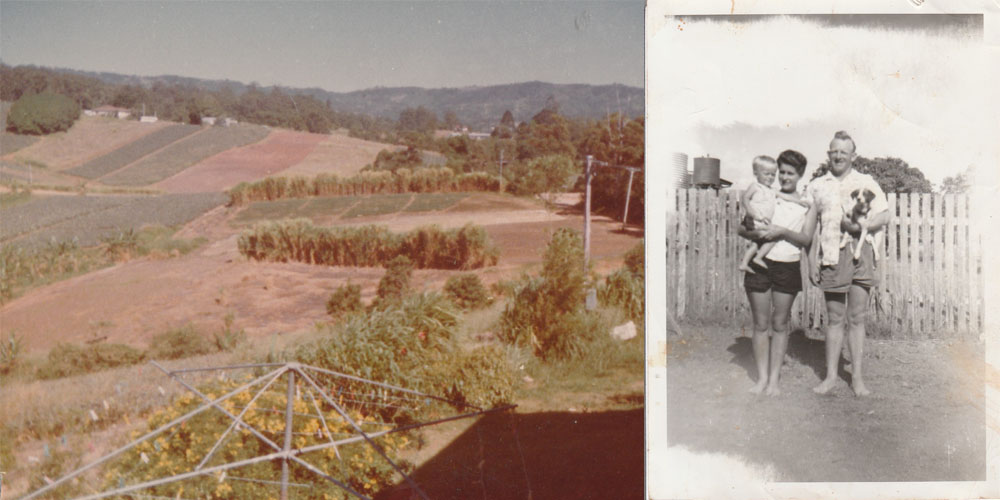 Pictured: Left; Growing pineapples, strawberries and bananas on the family farm in Woombye, Queensland and right; Vince, Joan and Trevor Walker on the family farm in Gympie, Queensland.
Family businesses seem to run in the Walker blood, with Vince also forming a business with his brothers called the Walker Brothers.  They spent their time contracting for different farms and properties across Queensland and New South Wales and became prominent in the pineapple industry.  At one stage they were attributed with planting and assisting in the growth of over 80% of the pineapples grown in Australia. This was before modern machinery where everything was done by hand and good old fashioned hard work. In the off season the brothers would fill in time with various other roles including the fabrication and building of sheds. Sheds have been a common thread in the Walker family ever since.
Pictured: Left; Trevor driving the tractor and right;  Trevor's father Vince on the pineapple farm.
Trevor worked in real estate and construction for a number of years before getting into the shed industry.  A company he worked for decided they would build a shed division, and Trevor was on board. It wasn't long before he and a colleague decided to go into business together and established what is now one of the largest shed companies in Australia.  In 2006, Trevor sold his part of the business so that he could pursue his dream of working with his sons and giving back to the rural communities he loved.  
Pictured: Left; Trevor, Paula, James and Nick and right; Trevor and the boys, James (left) and Nick (right).
Since its humble beginnings, Now Buildings has enjoyed a steady rise to the top of the shed industry.  What started as a three man operation has slowly grown into a well established business, employing a team of trusted employees around Australia to ensure only the best for its customers. Although Now Buildings has grown, the core values from the Walker Family that Trevor, Nick and James started with remain the cornerstones of the company to this day.
Now Buildings is proud to be a registered member of Family Business Australia (FBA).  Family Business Australia works on the understanding that when family works together, it's not just a business. This is a sentiment that we at Now Buildings believe in and have worked hard to ensure is reflected in our policies, customer service and sales approach. 
We are extremely proud to be a family owned and operated business.  It is the work ethic and generational knowledge of farming, building and small business management that has helped us grow Now Buildings into the business it is today.